We welcome enquiries from organisations and individuals wanting to hire The Globe for gigs, dances, meetings, workshops, parties and other events.
The Globe has two distinct areas available for hire: the main bar on the ground floor and the small bar on the first floor. You can also hire the whole building.
We've got excellent sound equipment, experienced technicians and efficient hospitality staff. Whatever event you want to hold, we'll do all we can to make it a success.
Main Bar
The main bar is a great venue for live music, DJs, spoken word and dance. There's a purpose-built stage (5m x 3m) with acoustic insulation and an access ramp. The stage can be seen from anywhere in the room. Maximum capacity is 60 seated or 100 standing. The bar is down one side so you don't have to leave the room to get a drink. The set up can include four video cameras so gigs can be livestreamed and recorded if required.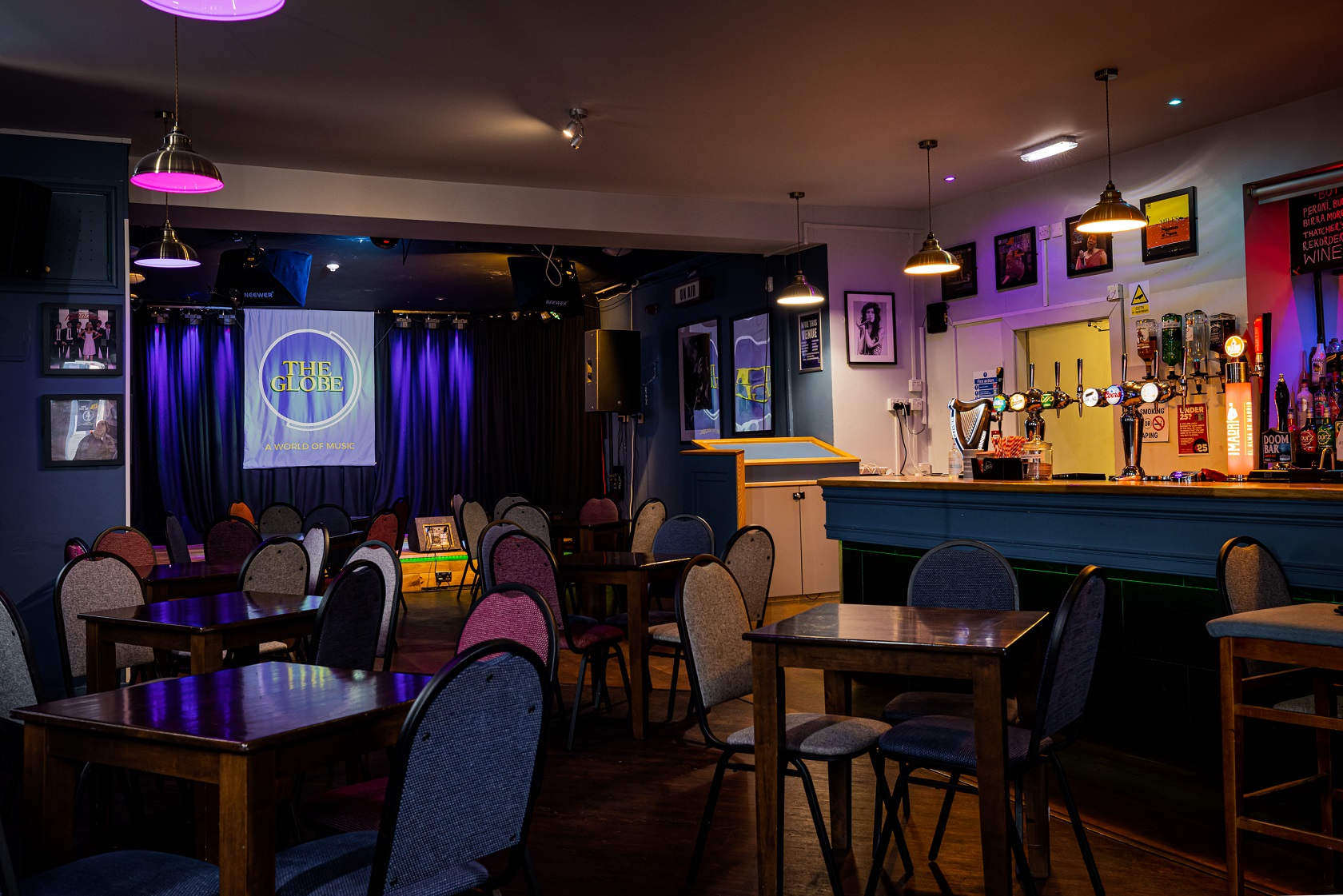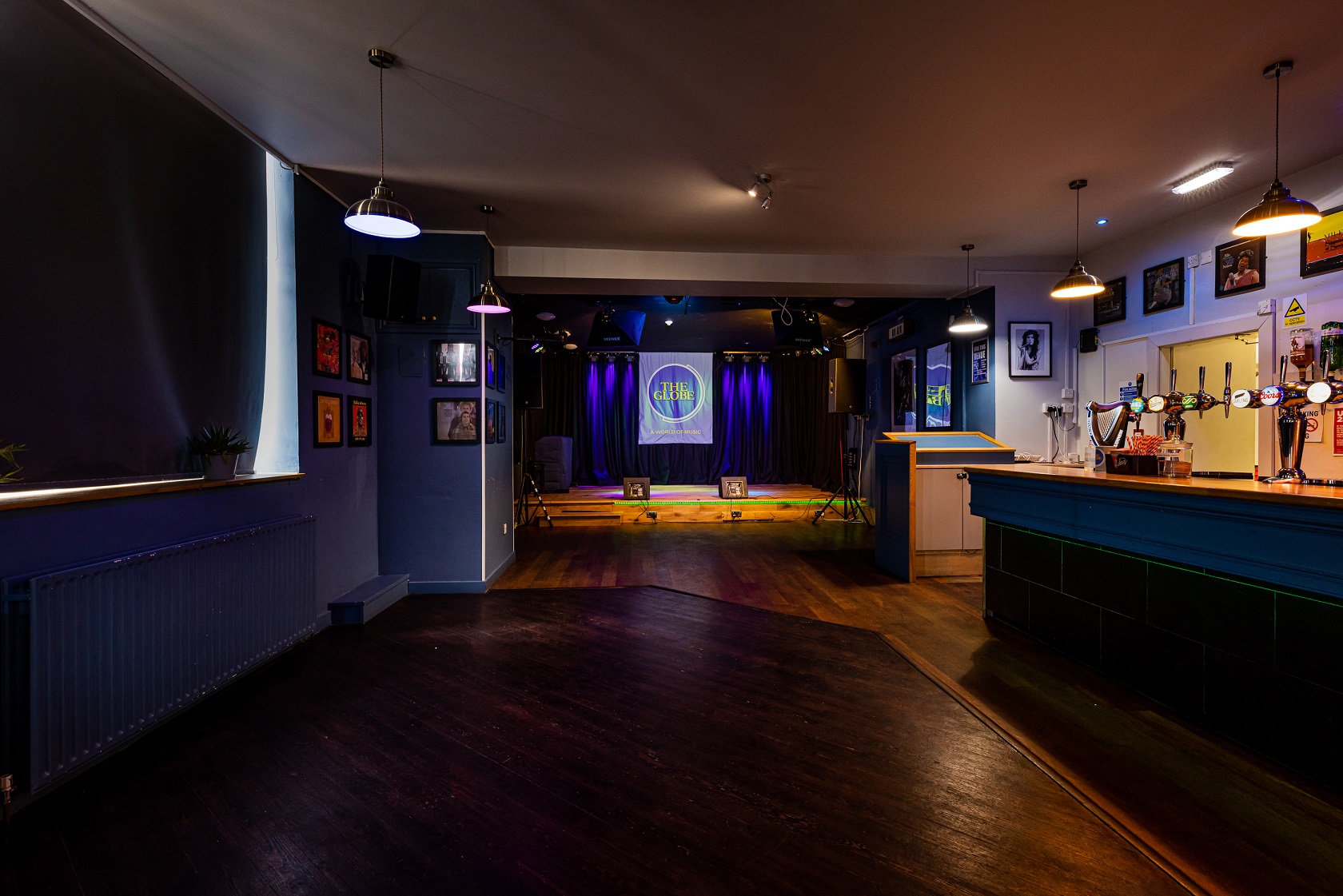 Equipment includes:
Sound
•  Allen & Heath Qu-16 digital mixing desk
•  Yamaha DZR15 PA speakers x 2
•  Alto Tourmax SXM112A stage monitors x 2
•  Orchid Electronics DI boxes
•  Mics include Audix D1, Audix D2, Audix ADX51, Studio Projects C4, Shure SM58, Shure SM57
Video/streaming
•  iMac
•  Blackmagic ATEM Mini Pro video mixer
•  Canon LEGRIA HF R806 video cameras x 4
Backline
•  Gretsch Catalina drum kit with cymbals
•  Ashdown bass amp
•  Yamaha Clavinova 535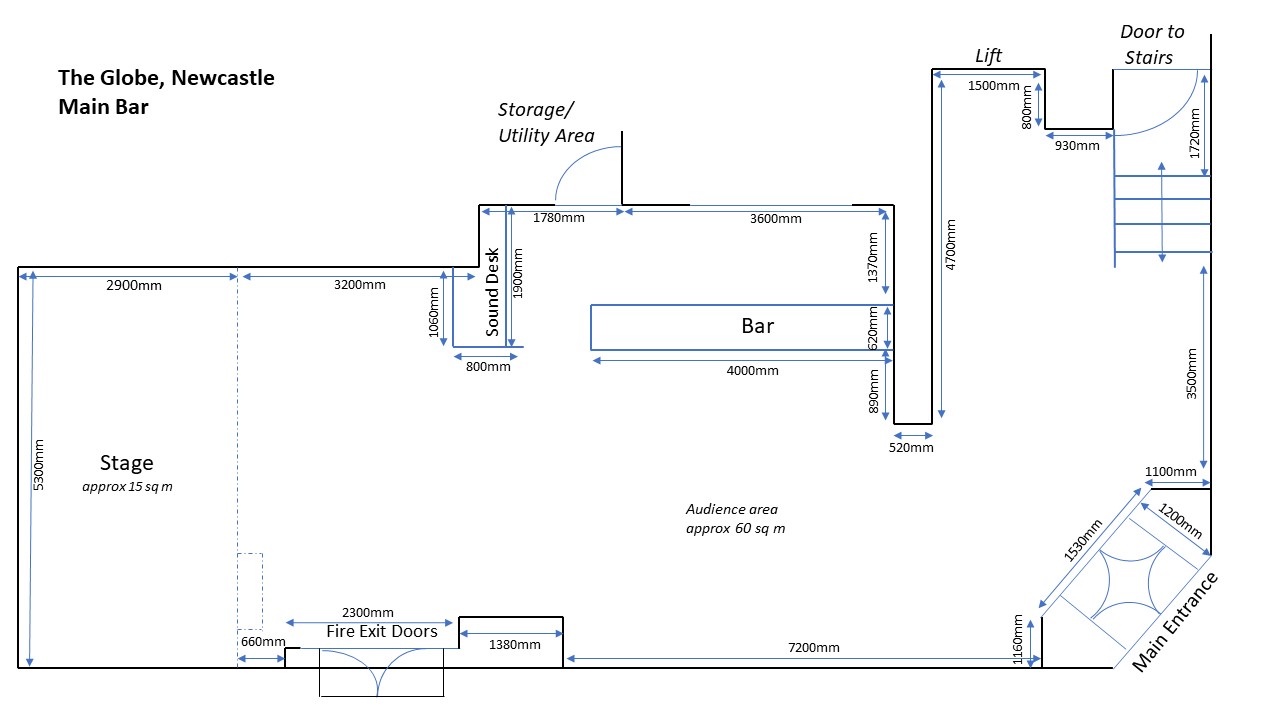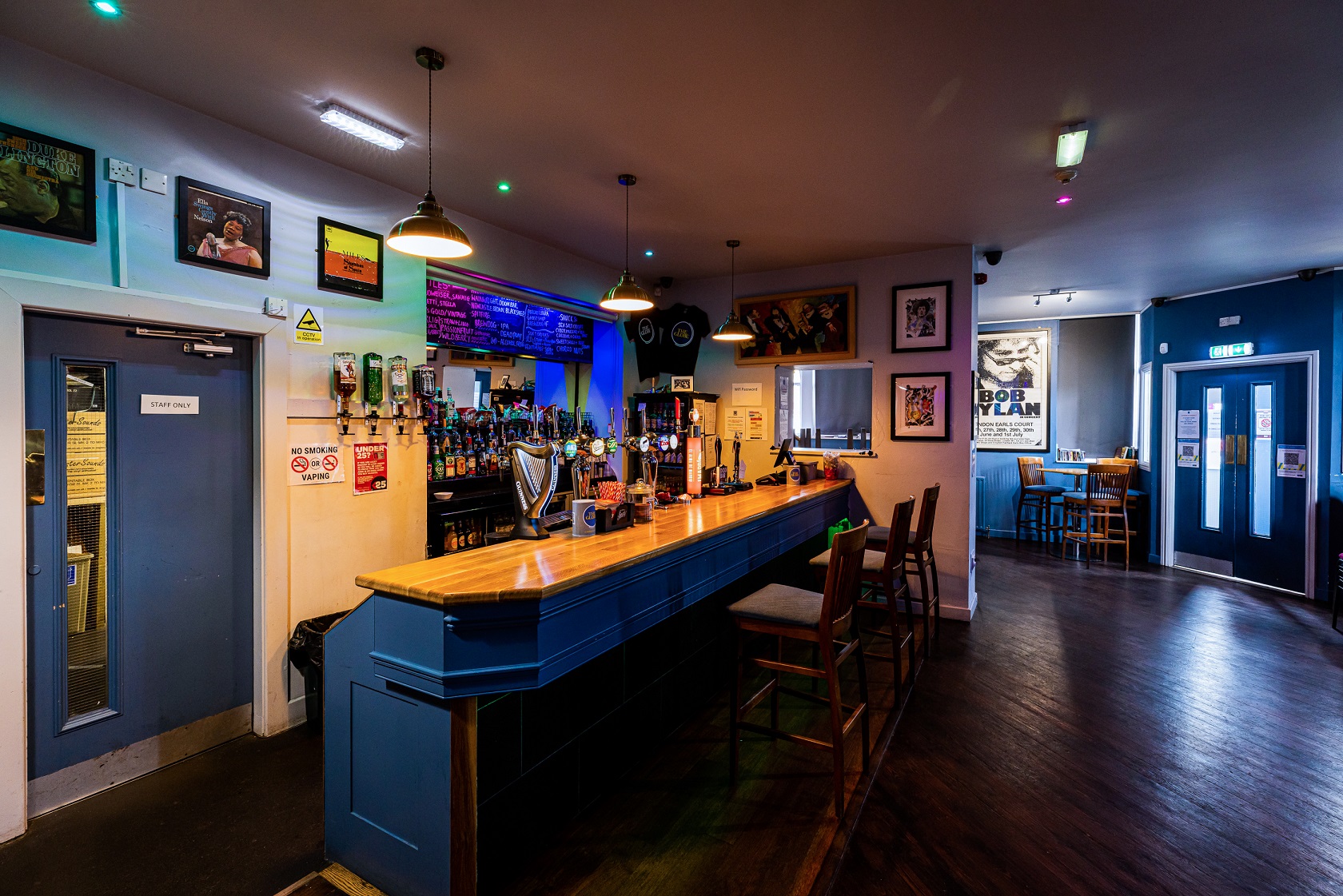 Small Bar
The small bar is ideal for parties, socials and small acoustic gigs. Maximum capacity is 36 seated or 40 standing. There is a bottle bar. There is direct access to the roof terrace.
The sound system is easy to use and does not require a trained technician.
Equipment includes:
Sound
•  Allen & Heath ZED-18 mixing desk
•  Yamaha DXR8 MKII PA Speakers x 2
•  dB Technologies Flexsys FM10 stage monitor
•  Shure SM58 mics and stands
Backline
•  Gretsch Catalina drum kit with cymbals
•  Trace Elliot GP7 bass amp
•  Korg SP250 keyboard with Torque TM100P monitor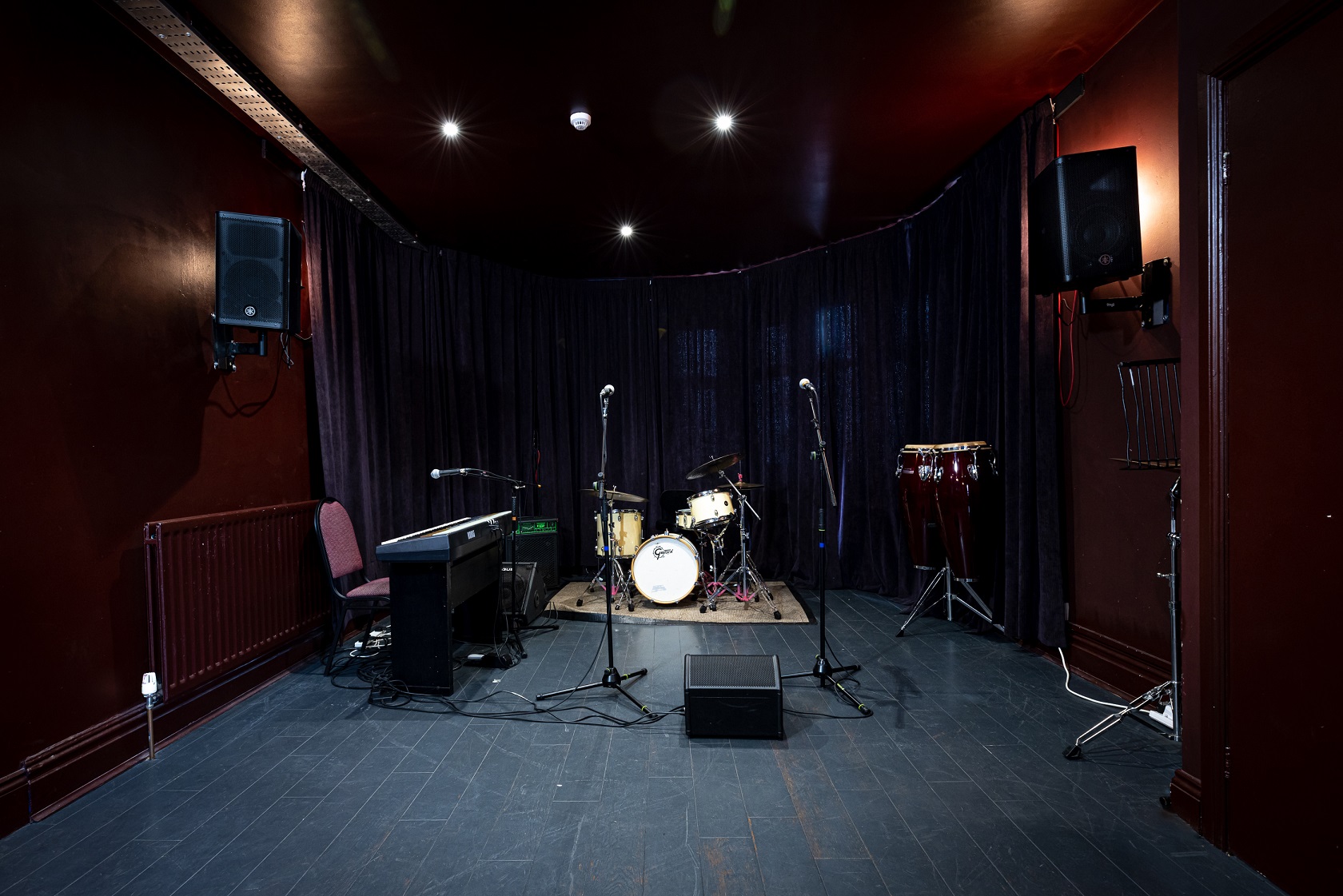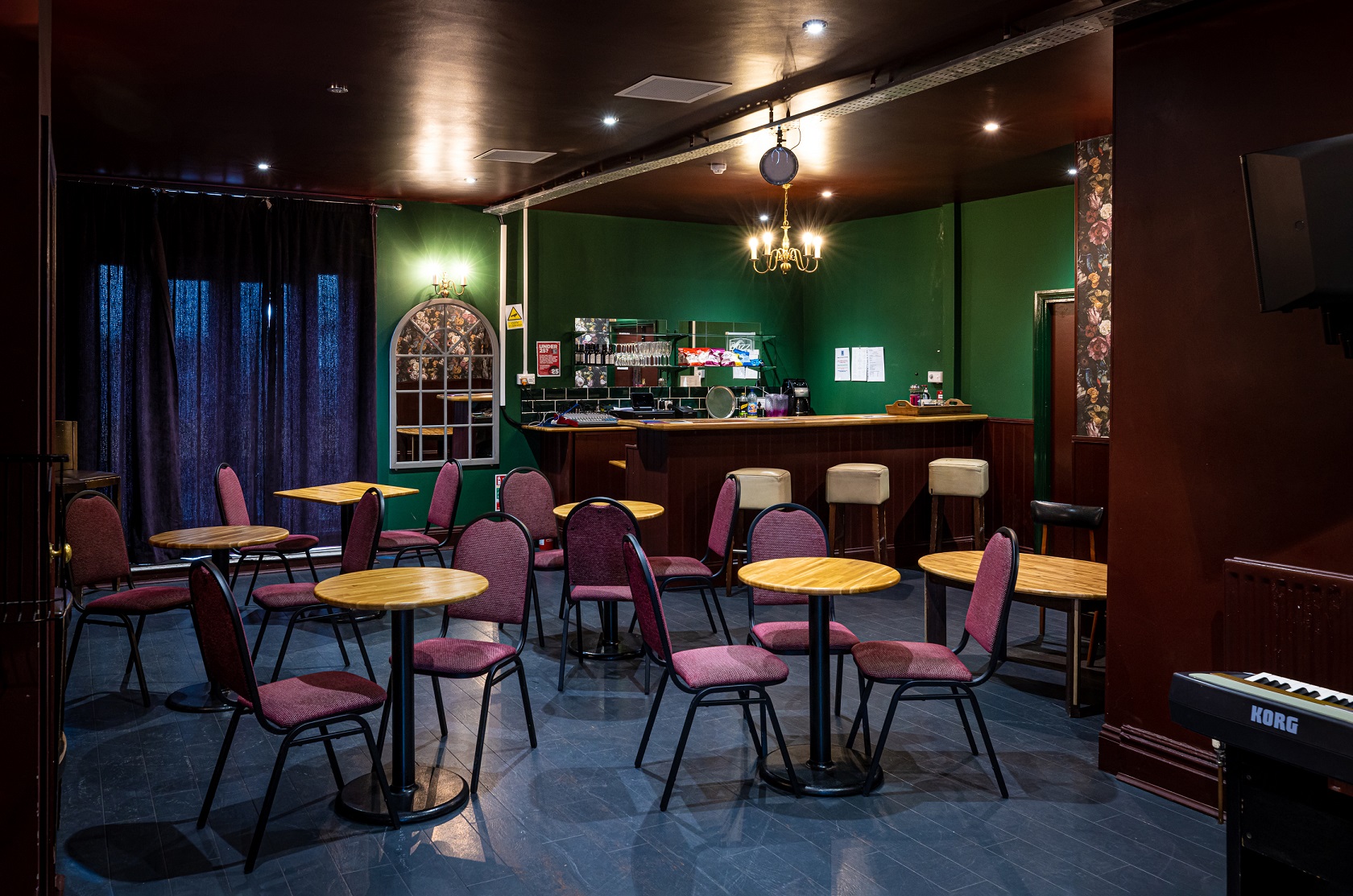 Benefits for promoters
The Globe is a well-established grassroots music venue that is known for hosting a very wide range of genres. From classical concerts and club nights, our technicians always manage to get the best possible sound.
It's a small intimate venue where performers can get close to their audiences, and with our late-night licence the fun can go on until 3am.
The Globe has a good reputation locally and a strong presence online, so we can help with the promotion of your gigs. We can also handle the ticketing if you want.
"I love working with The Globe. They are an unassuming organisation and they let me get on with the show. They're around when I need them and the venue and staff are first class. As a music promotion company with 37 years' experience ourselves, we highly recommend this venue."
Graham Anderson (Jumpin' Hot Club / Northern Roots)
"We had the most excellent night last night, thank you so much for your help with everything. Stephen was so accommodating, and your bar/security team were incredibly welcoming. The Globe is a fantastic venue and we couldn't have been happier."
Ben Morris (actor in Waitress The Musical UK & Ireland Tour)
Licences
The Globe is fully licensed to sell alcohol, host live music and dance, and play recorded music at the following times:
•  Monday, Tuesday, Wednesday: 10am to midnight
•  Thursday: 10am to 2am
•  Friday, Saturday: 10am to 3am
•  Sunday: 10am to 1am
Access
The Globe is fully accessible to wheelchair users on both floors. There is a lift and an accessible toilet. There is a ramp on to the stage. Guide dogs are welcome.
Hire charges
Our hire charges vary considerably depending on exactly what you want. We need to talk to you before we can agree a fair price. We will need to know:
•  When – day, date, start and finish time
•  What type of event it is
•  How many people you expect to come
•  What equipment and staff you need us to provide
•  Any special requirements (eg video, ticketing etc)
Contact us now – don't leave it too late
Email howdy@theglobenewcastle.bar explaining what you want and we'll get back to you, usually within 24 hours. If your event must take place on a specific date, please contact us as early as you can. Most events at The Globe are booked several months in advance. If we can accommodate you, we'll ask you to pay a deposit to confirm your reservation.
"The newly refurbished Globe venue became a diamond in the rough of Covid trauma. Fully equipped with a great sound system and streaming facilities, a top-quality in-house engineer and vibrant management team working alongside volunteers, The Globe has become a key grassroots venue in the ecology of the Tyneside music scene."
Wesley Stephenson (Jazz North East / Newcastle Festival of Jazz and Improvised Music)
"Do yourself a favour and visit this lovely place – The Globe – in Newcastle. The service is unmatched: the staff radiate a caring manner and along with the managers, your experience is always a priority. The Globe, always there to assist you during your visits/events. Highly recommend!"
Liliana Ova (Kizomba Mangole Party's)