A whole weekend of listening and playing in the company of others who want to learn and improve jazz skills.
Building on the success of previous years, we are running another jazz weekend workshop, this time with tutors Sue Ferris and Stu Collingwood. The 2-day workshop will be an introduction to improvisation, exploring ideas both melodic and rhythmic in various styles. In a relaxed and friendly atmosphere, we'll learn (by ear or from music) a variety of tunes, and create chances to try out short (or longer if you prefer!) improvised solos in small group settings. We will explore jazz history too, listening to examples to give us some context. We will end up with a short performance at the end of the weekend to show off our new skills to each other!
About the tutors
Sue Ferris has been playing saxophone and flute for well over 30 years in a variety of settings. These include classical, musical theatre and rock and pop, but she feels most creative when improvising in a small group or big band.
She has worked with Voice of the North jazz orchestra for many years, collaborating with some jazz greats including Bob Mintzer, Andy Sheppard, Alan Barnes, John Surman, Michael Garrick, Tommy Smith, Tim Garland, Mark Nightingale and more. More home-grown bands include: Sue Ferris Quintet, Northern Monkey Brass Band, Watts and Whiffen Big Band, Gerry Richardson's Big Idea, Wagga Jawaka, Musicians Unlimited Big Band and the Strictly Smokin' Big Band.
Sue has taught extensively in schools and at Sage Gateshead as saxophone tutor on the Bmus degree course, and on the assessor panel for saxophone recitals at Newcastle University.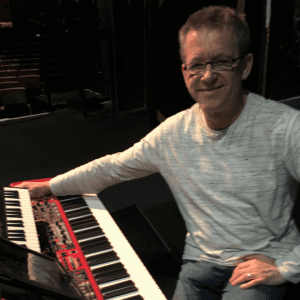 Stuart Collingwood has been a professional musician for over 30 years and is an established member of the north east jazz scene. His past local bands include Beep Bap Bop and Ex-Extreme.
Stuart has worked with many jazz names in his long career including Elaine Delmar, Tommy Smith, Ian Carr, Ruby Turner, Julian Seigal, Alan Barnes, Tony Coe, Paul Booth and Mark Nightingale. He has also performed with Voice of the North Jazz Orchestra with John Warren.
Stu is currently working with Snake Davis band and is the resident Jazz Piano tutor at Newcastle University.
About the Workshop
The workshop is suitable for all instruments and a range of abilities. Vocalists who want to improvise are welcome. You do not need to have much experience of jazz, but you should be able to play scales (and chords if appropriate) with ease. Minimum age 16.
For much of the weekend the participants will be divided into two groups: beginner/intermediate and intermediate/advanced. You will be able to improvise and interact with other musicians in an informal supportive situation.
Programme outline
Saturday 7 August
9.30am Registration and introductions
10am Session 1: The Nuts and Bolts of Jazz
This session will cover the essential elements of jazz and aims to up your skills and knowledge. It is available at two levels: Beginner/Intermediate and Intermediate/Advanced.
1pm Lunch
2pm Session 2: The Art of Making Jazz – Band Call
This session will cover the art and artistry of playing jazz with other people using well-known standards as a starting point. There will be two groups based on an equal split of instruments/participants to give two well-balanced bands.
5pm End of Session 2
Sunday 8 August
9.30am Welcome back
10am Session 3: More Nuts and Bolts
This session will continue to present the essential elements of jazz and build your skills and knowledge. Again it is available at two levels: Beginner/Intermediate and Intermediate/Advanced.
1pm Lunch
2pm Session 4: Taking Control – Band Call
Continuing from yesterday's Band Call session, participants will arrange tunes ready for performance. There will be opportunities to write new music. The emphasis will be on the band members giving the band direction and focus with tutor guidance and input when necessary.
4.30pm Performance
A performance by each band to the other
5pm Thank you and goodbye
Prices
The weekend workshop costs £95.
There are some half-price bursaries available for adults aged 18-25 (please email learning@jazz.coop for details).
Snacks and hot and cold drinks will be available from the bar (to be paid separately).
Overnight accommodation is not included.
To book
To enrol please complete the form below.
To confirm your booking you need to pay for the course in advance.
You can pay in one of the following ways:
1 By bank transfer (online banking) directly into our bank account: Account name: Pink Lane Jazz Co-op Ltd, Account number: 65650408, Sort code: 08 92 99
2 By making an online payment by credit/debit card or PayPal: use the button at the bottom of this web page
Any Questions?
Please email learning@jazz.coop
ENROLMENT FORM

PAYING BY CARD/PAYPAL
If you are paying by card/PayPal please click SEND above before you click BUY NOW.