Description
A series of jazz workshops specifically for women 
These workshops create a supportive atmosphere for instrumentalists and vocalists alike. They concentrate on developing ways to improvise, playing with others, and having fun with jazz repertoire and beyond. Playing is usually done by ear. Learning will include: communicating with other musicians, demystifying jargon and preparing for a jam session.
Each monthly workshop is different and complete in itself.
Suitable for all female instrumentalists and improvising vocalists including beginner improvisers. Minimum age 16.
About the tutor
Faye M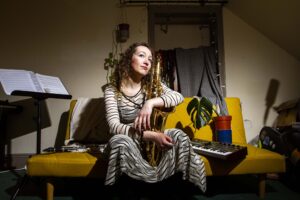 acCalman is a performer, composer-songwriter and improviser on saxophone, clarinet and voice. Freewheeling through genre boundaries inspired by jazz, blues-folk, minimalism and rock to name a few, Faye fuses experimental songwriting with off kilter patterns, heartfelt melodies and surreal atmospheres.
Faye is bandleader of critically acclaimed jazz-art-rock trio Archipelago, nominated for UK Jazz Act of the Year in the 2021 Jazz FM Awards after releasing their 2021 album 'Echoes To The Sky'. Faye is also a current Jerwood Arts / Cheltenham Jazz Festival fellow, and her collaborations include Arun Ghosh, Anna Meredith, Zoe Rahman, Maximo Park and The Unthanks.
Currently Faye is creating a new AV installation called 'Invisible, Real' as part of the Jerwood Jazz Encounters Fellowship for Cheltenham Jazz Festival 2022 combining anonymously collected real life experiences of mental illness with floating projections, sound art and live solo performance.
Faye's playing and compositions have featured on BBC Sounds, Worldwide FM, NTS Radio and Jazz FM including Faye's most recent work 'Redraw The Circles', addressing classism in music and premiered by Huw Stephens on BBC6 Music, commissioned by New Creatives North.
 'Providing food for thought on what jazz is and can become' – Kevin Le Gendre
About learning and participation at The Globe
We have implemented policies and procedures to reduce the risk of spreading infection. We want to ensure that participants feel welcome, comfortable and safe.
You will need to bring all the equipment you need including instruments, amplifiers (if required) and music stands.
Prices
The workshop fee is £25.
There are some half-price bursaries available for adults aged 18-25 (please email learning@jazz.coop for details).
Creating a Globe Account
When you buy tickets you will be invited to create an online account. You don't have to do this but, if you do, you will find it quicker and simpler to buy tickets in future. Also, you can access all your ticket information and livestream files from your account dashboard, which is very convenient.
Any Questions?
Please email learning@jazz.coop