Description
A series of jazz workshops specifically for women running on the third Saturday of each month (except January and August)
What to expect? A friendly atmosphere where everyone feels welcome and can take part in the way that feels comfortable for them. After introducing a song, Jilly is very good at working quickly to arrange the session to make sure that everyone gets a go – whether it is to solo on their voice or instrument or create backing riffs or hold the rhythm down.
All voice-types and instruments are welcome. And remember, there are a whole range of skills you will have, that are not necessarily music-related, that you can use when learning to play jazz, so do come along even if you feel you might not be "good enough".
Charts are available to read from, but we also will do some learning by ear where possible. If you want to spend the afternoon making some great music together and having a laugh (as well, of course, as improving your skills in improvisation, theory and band politics) please do join us!
About the tutor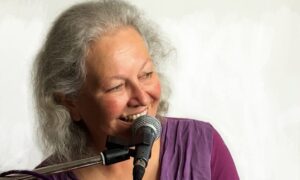 Jilly is well-known in the NE and Cumbria for her jazz and improvisation sessions – whether for bands or vocalists – she is a composer and improviser and is founder/director of BlueJam Arts. She currently performs solo and with friends and also paints.
About learning and participation at The Globe
We have implemented policies and procedures to reduce the risk of spreading infection. We want to ensure that participants feel welcome, comfortable and safe.
You will need to bring all the equipment you need including instruments, amplifiers (if required) and music stands.
Prices
The workshop fee is £25.
There are some half-price bursaries available for adults aged 18-25 (please email learning@jazz.coop for details).
Creating a Globe Account
When you buy tickets you will be invited to create an online account. You don't have to do this but, if you do, you will find it quicker and simpler to buy tickets in future. Also, you can access all your ticket information and livestream files from your account dashboard, which is very convenient.
Any Questions?
Please email learning@jazz.coop