Description
A series of jazz workshops specifically for women running on the third Saturday of each month (except January and August)
These workshops create a supportive atmosphere for instrumentalists and vocalists alike. They concentrate on developing ways to improvise, playing with others, and having fun with jazz repertoire and beyond. Playing is usually done by ear. Learning will include: communicating with other musicians, demystifying jargon and preparing for a jam session.
Each monthly workshop is different and complete in itself.
Suitable for all female instrumentalists and improvising vocalists. Minimum age 16.
13.30: Short introduction from us all in a very informal atmosphere
13.45: Warm up on a simple tune and chord sequence. Explore!
14.30: Listening session and discussion about tunes to work on
14.45: Tea/coffee/chat break
15.15: Play/create/improvise
16.30: Mini concert with a select audience (ie each other!)
About the tutor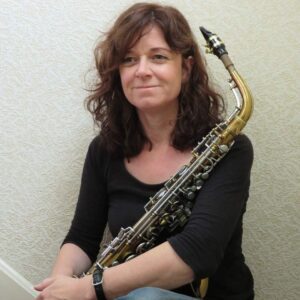 Sue Ferris has been playing saxophone and flute for well over 30 years in a variety of settings. These include classical, musical theatre and rock and pop, but she feels most creative when improvising in a small group or big band.
These include working with Voice of the North jazz orchestra for many years, collaborating with some jazz greats including Bob Mintzer, Andy Shephard, Alan Barnes, John Surman, Michael Garrick, Tommy Smith, Tim Garland, Mark Nightingale and more!
More home-grown bands include: Sue Ferris Quintet (!), Northern Monkey Brass Band, Watts and Whiffen Big Band, Gerry Richardsons Big Idea, Wagga Jawaka, Musicians Unlimited Big Band and the Strictly Smokin' Big Band.
Sue has taught extensively in schools, but also at Sage as saxophone tutor on the Bmus degree course, and on the assessor panel for saxophone recitals at Newcastle University.
About learning and participation at The Globe
We have implemented policies and procedures to reduce the risk of spreading infection. We want to ensure that participants feel welcome, comfortable and safe.
You will need to bring all the equipment you need including instruments, amplifiers (if required) and music stands.
Prices
The workshop fee is £25.
There are some half-price bursaries available for adults aged 18-25 (please email learning@jazz.coop for details).
Creating a Globe Account
When you buy tickets you will be invited to create an online account. You don't have to do this but, if you do, you will find it quicker and simpler to buy tickets in future. Also, you can access all your ticket information and livestream files from your account dashboard, which is very convenient.
Any Questions?
Please email learning@jazz.coop