Description
Communication and Confidence
A workshop lead by bassist and bandleader John Pope,  exploring how we can be more effective and confident communicators in music. How to communicate our ideas clearly and confidently, with both our fellow musicians and the audience, and how to make the best music we can together. All instrumentalists or vocalists at all levels of experience welcome!
About Play Jazz! workshops
Play Jazz! is a series of introductory workshops focusing on specific aspects of jazz improvisation, running on the first Saturday of each month (except January and August). Each workshop is different, and is usually facilitated by a different tutor. The Play Jazz! workshops are intended to appeal to a wide range of musicians including those who
play other styles of music but are new to jazz
play written music but want to learn to improvise
have not played for a while and want to refresh their skills
want to meet and play with other jazz musicians.
Suitable for all instrumentalists and improvising vocalists. Minimum age 16.
About the tutor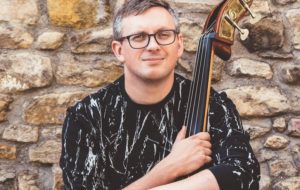 Bass player, improviser and composer John Pope is a musician with a deep commitment to creative expression and curiosity. Based in Newcastle upon Tyne he has spent over a decade working all across the spectrum of modern music, from the avant-garde to pop, folk and rock. But jazz is his creative home turf, especially with regards to improvisation and spontaneous collaboration. John has worked with prominent musicians including Joe McPhee, Evan Parker, Chris Biscoe, Roy Wiliams and many others, as well as being a founding member of the Peter Whittingham Award-supported 'alternative-jazz' trio Archipelago. 2021 has seen him release his first album as a bandleader, with a chord-less quintet of Northern musicians playing his free-wheeling, open-hearted compositions. His approach to music is driven by a love for the spontaneous and a commitment to expressing the joy of playing together.
About learning and participation at The Globe
We have implemented policies and procedures to reduce the risk of spreading infection. We want to ensure that participants feel welcome, comfortable and safe.
You will need to bring all the equipment you need including instruments, amplifiers (if required) and music stands.
Prices
The workshop fee is £25.
There are some half-price bursaries available for adults aged 18-25 (please email learning@jazz.coop for details).
Creating a Globe Account
When you buy tickets you will be invited to create an online account. You don't have to do this but, if you do, you will find it quicker and simpler to buy tickets in future. Also, you can access all your ticket information and livestream files from your account dashboard, which is very convenient.
Any Questions?
Please email learning@jazz.coop