Description
A whole weekend of singing in the company of others who want to learn and improve jazz skills.
A rare opportunity to learn from the best. We're delighted to announce that Liane Carroll will be leading a 2 day Jazz vocal workshop at The Globe . The workshop will be based on interpretation, finding your own voice, and getting maximum joy out of singing. So whether you're a bedroom jazz vocalist or professional singer this is the workshop for you.
We are expecting a very high demand for this workshop and there are only limited places so please book early to avoid disappointment.
Liane will also be performing at The Globe on Sunday 21 January. Tickets are available here
About the tutor
Liane is an award-winning jazz singer described by Jamie Cullum as "one of the greatest singers we have in this country". Awards include 'Best British Vocalist' (BBC Jazz Awards), 'Best Female Jazz Vocalist' (Ronnie Scott's Awards) and 'Best Jazz Album of the Year' (Parliamentary Jazz Awards).
Liane Carroll was born in London and raised in Hastings UK, where she lives today with her husband, bassist Roger Carey.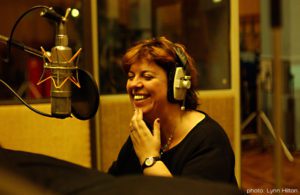 Encouraged to play piano from a young age, Liane received lessons from concert pianist Phyllis Catling. She developed a deep passion for everything jazz, soul and beyond culminating in the formation of The Liane Carroll Trio in 1990.
Her vocal talents were recognized in 2005 when she was awarded 'Best Vocalist' and 'Best of Jazz' at the BBC Jazz Awards for her album Billy No Mates on Splash Point Records. Liane recorded Standard Issue at the famous Abbey Road studios in London, an album which saw her named 'Best Vocalist' at the 2006 Marston Pedigree Jazz Awards.
Liane's performance at the Brecon Jazz Festival was recorded by BBC TV as an hour long special 'Liane Carroll Trio LIVE', and released on DVD in 2008. Since 1993, Liane has headlined at the legendary Ronnie Scotts Jazz Club, London UK and in 2007 won 'Best Female Jazz Vocalist' at their first Awards. where she has also recorded two live CD's for their Jazz House label.
In 2007 The Sunday Times selected Liane's third album 'Slow Down' as one of their top five jazz albums of the year. It was also featured by MOJO Magazine in their Top 10 Playlist for 2007. The following year Liane won a British Parliamentary Jazz Award for 'Musician Of The Year'.
2009 took Liane to New York where she performed to rapturous audiences at Dizzy's Jazz Club in New York's Lincoln Center, and the Rochester Jazz Festival.
Liane signed to Quiet Money Productions in 2010 and recorded 'Up and Down' featuring Kirk Whalum on sax and on flugelhorn Kenny Wheeler. The James McMillan produced album received glowing reviews from Jazzwise, MOJO to The Sunday Times. Up and Down was voted as 'Best Jazz Album of the Year' in the 2012 Parliamentary Jazz Award's and Liane was awarded 'Best British Vocalist' in the 2013 British Jazz Awards and nominated as best UK Vocalist of 2012 at the first Jazz FM's Awards.
Liane's 2013 album Ballads has a different take from her previous recordings; the string arrangements were especially written for Liane by Los Angeles based, GRAMMY-winning orchestrator Chris Walden. The City of Prague Philharmonic, Gwilym Simcock, Kirk Whalum are featured on the track Here's to Life.
Liane's new recording is Seaside, which reunites Liane with multi-GRAMMY nominated producer and trumpeter James McMillan who worked on her previous two albums. Seaside is a mix of original songs and covers broadly following a seashore theme, with sterling accompaniment comprising piano trio, guitar and brass and was released on Linn in Autumn 2015.
Prices
The weekend workshop costs £95.
There are some half-price bursaries available for adults aged 18-25 (please email learning@jazz.coop for details).
Overnight accommodation is not included.
About learning and participation at The Globe
We have implemented policies and procedures to reduce the risk of spreading infection. We want to ensure that participants feel welcome, comfortable and safe.
You will need to bring all the equipment you need including instruments, amplifiers (if required) and music stands.
Creating a Globe Account
When you buy tickets you will be invited to create an online account. You don't have to do this but, if you do, you will find it quicker and simpler to buy tickets in future. Also, you can access all your ticket information and livestream files from your account dashboard, which is very convenient.
Any Questions?
Please email learning@jazz.coop