Description
A whole weekend of listening and playing in the company of others who want to learn and improve jazz skills.
Building on the success of previous years, we are running another jazz weekend workshop, this time with tutors Paul Edis and James Brady. The 2-day workshop will be an introduction to improvisation, exploring ideas both melodic and rhythmic in various styles. In a relaxed and friendly atmosphere, we'll learn (by ear or from music) a variety of tunes, and create chances to try out short (or longer if you prefer!) improvised solos in small group settings. We will explore jazz history too, listening to examples to give us some context. We will end up with a short performance at the end of the weekend to show off our new skills to each other!
About the tutors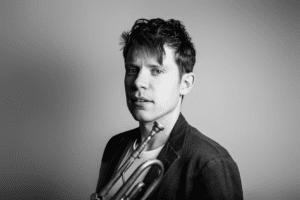 Pianist Paul Edis is joined by trumpeter James Brady.  Both are composers, arrangers and educators with wide-ranging musical interests and influences, including folk and contemporary classical music alongside a shared love of the swinging straight ahead jazz tradition.
About the Workshop
The workshop is suitable for all instruments and a range of abilities. Vocalists who want to improvise are welcome. You do not need to have much experience of jazz, but you should be able to play scales (and chords if appropriate) with ease. Minimum age 16.
Programme outline
Saturday 6 August
9.30am Registration and introductions
10am Session 1: The Nuts and Bolts of Jazz
This session will cover the essential elements of jazz and aims to up your skills and knowledge. It is available at two levels: Beginner/Intermediate and Intermediate/Advanced.
1pm Lunch
2pm Session 2: The Art of Making Jazz – Band Call
This session will cover the art and artistry of playing jazz with other people using well-known standards as a starting point. There will be two groups based on an equal split of instruments/participants to give two well-balanced bands.
5pm End of Session 2
Sunday 7 August
9.30am Welcome back
10am Session 3: More Nuts and Bolts
This session will continue to present the essential elements of jazz and build your skills and knowledge. Again it is available at two levels: Beginner/Intermediate and Intermediate/Advanced.
1pm Lunch
2pm Session 4: Taking Control – Band Call
Continuing from yesterday's Band Call session, participants will arrange tunes ready for performance. The emphasis will be on the band members giving the band direction and focus with tutor guidance and input when necessary.
4.30pm Performance
A performance by each band to the other
5pm Thank you and goodbye
Prices
The weekend workshop costs £95.
There are some half-price bursaries available for adults aged 18-25 (please email learning@jazz.coop for details).
Overnight accommodation is not included.
About learning and participation at The Globe
We have implemented policies and procedures to reduce the risk of spreading infection. We want to ensure that participants feel welcome, comfortable and safe.
You will need to bring all the equipment you need including instruments, amplifiers (if required) and music stands.
Creating a Globe Account
When you buy tickets you will be invited to create an online account. You don't have to do this but, if you do, you will find it quicker and simpler to buy tickets in future. Also, you can access all your ticket information and livestream files from your account dashboard, which is very convenient.
Any Questions?
Please email learning@jazz.coop