Saturday 4 December: 13:30 – 17:00 at The Globe with Clark Tracey
Suitable for all instrumentalists and improvising vocalists. Minimum age 16.
Clark Tracey BEM has been a drummer and band leader for over forty years and has worked with most of the biggest names in this country. Son of the late Stan Tracey, he is also a composer, arranger and educator, having spent the last ten years as Visiting Tutor at the Royal Birmingham Conservatoire of Music.
For his trip to the Globe, he will be examining the role of the rhythm section and the interplay with the rest of the band. Also Clark's approach is a "Back to Basics" look at the blues in various settings which can assist in building general confidence and help to build a relationship of musical trust between front line musicians (and vocalists) and the rhythm section, an essential ingredient to any jazz group, although rarely addressed.
Clark has decades of experience in group workshops both in the UK and further afield and hopes his experience will introduce a new perspective to enjoying the freedom of performing jazz music
About Play Jazz! workshops

Play Jazz! is a series of introductory workshops focusing on specific aspects of jazz improvisation, running on the first Saturday of each month (except January and August). Each workshop is different, and is usually facilitated by a different tutor. The Play Jazz! workshops are intended to appeal to a wide range of musicians including those who
play other styles of music but are new to jazz
play written music but want to learn to improvise
have not played for a while and want to refresh their skills
want to meet and play with other jazz musicians.
Suitable for all instrumentalists and improvising vocalists. Minimum age 16.
About the tutor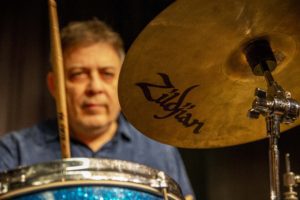 Clark Tracey BEM grew up in a jazz environment as the son of Stan Tracey OBE, CBE, the UK's multi award winning legendary jazz pianist, and from an early age took to the piano and vibraphones. At 13 he started playing the drums and turned professional at 17 in 1978 by joining his father's various ensembles, from trio to orchestra for the next 35 years, up until Stan's death in 2013. Within that context he toured worldwide and recorded extensively. In 2001 Clark began his own record company, Tentoten Records and in 2007 he formed Resteamed Records, a label dedicated to his father's works. In 2017 he wrote a biography of Stan entitled "The Godfather of British Jazz", released on Equinox Publishing.
About learning and participation at The Globe
We have implemented policies and procedures to reduce the risk of spreading infection. We want to ensure that participants feel welcome, comfortable and safe.
You will need to bring all the equipment you need including instruments, amplifiers (if required) and music stands.
Prices
The workshop fee is £25.
There are some half-price bursaries available for adults aged 18-25 (please email learning@jazz.coop for details).
To book
To enrol please complete the form below.
To confirm your booking you need to pay for the course in advance. You can pay in one of the following ways:
By bank transfer (online banking) directly into our bank account: Account name: Pink Lane Jazz Co-op Ltd, Account number: 65650408, Sort code: 08 92 99
By making an online payment by credit/debit card or PayPal: use the button at the bottom of this web page
Any Questions?
Please email learning@jazz.coop
ENROLMENT FORM

PAYING BY CARD/PAYPAL
If you are paying by card/PayPal please click SEND above before you click BUY NOW.